Download Extreme Meme Music Megamashup Wallpaper Engine Free non-steam required. [col] [ Ext...
Download Extreme Meme Music Megamashup Wallpaper Engine Free non-steam required.
[col]

[

Extreme Meme Music Megamashup

] is one of wallpaper engine best wallpapers available on steam wallpaper engine Workshop to make your computer desktop go live giving you an outstanding experience while using PC.
You can easily use it once you download it from our site (absolutely free), This wallpaper engine free wallpaper can be the best alternative for your windows desktop images. Browse our site so you can download thousands of wallpaper engine free wallpapers ready to be on your desktop.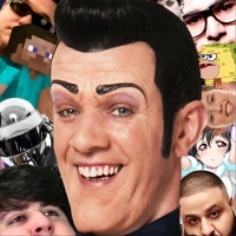 [message]

##info## DESCRIPTION

- TITLE: Extreme Meme Music Megamashup
- LABELS: Wallpaper, Video, 1280 x 720, Memes, Everyone, FAVORITED > 2000
- STEAM: https://steamcommunity.com/sharedfiles/filedetails/?id=1314127922
- FILE SIZE: 98 MB
- DOWNLOADED: 89191
- FAVORITED: 2118


---

(EDIT 2 Electric Boogaloo: Thanks for more then 10000 subs on this!)

This is a music mashup of the one and only DaymanOurSavior
https://www.youtube.com/watch?v=_aKuVAtYgv4

-The Music Used:
DAFT PUNK - 'Harder, Better Faster, Stronger'
FIFTH HARMONY ft. TY DOLLA $IGN - 'Work From Home'
009 SOUND SYSTEM - 'Dreamscape'
THE WHITE STRIPES - 'Seven Nation Army'
STRANGER THINGS OST - Main Theme
LINKIN PARK - 'In The End'
ARCTIC MONKEYS - 'Do I Wanna Know?'
THE CHAINSMOKERS - 'Closer'
GREEN DAY - 'Boulevard of Broken Dreams'
KERO KERO BONITO - 'Flamingo'
MADEON & PORTER ROBINSON - 'Shelter'
PARAPPA THE RAPPER 2 OST - 'Toasty Buns'
JUSTIN BIEBER - 'Sorry'
BRUNO MARS - '24K Magic'
BAKEMONOGATARI OST - 'Renai Circulation'
CARAVAN PALACE - 'Lone Digger'
RAE SREMMURD ft. GUCCI MANE - 'Black Beatles'
DISTURBED - 'Down With The Sickness'
PARAMORE - 'Misery Business'
CORY IN THE HOUSE OST - Main Theme
SPONGEBOB SQUAREPANTS OST - 'When Worlds Collide'
BREAKBOT - 'Baby I'm Yours'
FAR EAST MOVEMENT ft. THE CATARACS & DEV - 'Like a G6'
MINECRAFT AWESOME PARODYS - 'Welcome to My Mine'
MAJOR LAZER ft. MØ - 'Lean On"
OMFG - 'Hello'
SKRILLEX - 'Bangarang'
PANIC! AT THE DISCO - 'I Write Sins Not Tragedies'
GORILLAZ - 'Clint Eastwood'
SNOOP DOGG ft. LIL' JON - 'Step Yo Game Up'
LMFAO - 'Sexy and I Know It'
ERIC PRYDZ - 'Miami to Atlanta (Pryda Snare)'
DJ KHALED ft. LUDACRIS, RICK ROSS, T-PAIN & SNOOP DOGG — 'All I Do Is Win'
MADEON - 'Finale'
BILL NYE THE SCIENCE GUY OST - Main Theme
ROB $TONE ft. J. DAVIS & SPOOKS - 'Chill Bill'
DANIELLE COHN - 'Marylin Monroe'
EVANESCENCE - 'Bring Me to Life (Wake Me Up Inside)'
MACKLEMORE & RYAN LEWIS ft. WANZ - 'Thrift Shop'
TOBUSCUS - 'Nugget in a Biscuit'
UNDERTALE OST - 'Megalovania'
SKRILLEX ft. KILL THE NOISE, FATMAN SCOOP & MICHAEL ANGELAKOS - 'Recess'
JACOB SARTORIUS - 'Sweatshirt'
PORTER ROBINSON - 'Sad Machine'
JOJI - 'Will He'
HOME - 'Resonance'
EMINEM - 'Lose Yourself'
WIZ KHALIFA ft. CHARLIE PUTH - 'See You Again'
JONTRON - 'Firework (Katy Perry Cover)'
CHILDISH GAMBINO - 'Redbone'
OASIS - 'Wonderwall'
TRISTAM & BRAKEN - 'Flight'
PENDULUM - 'Witchcraft'
DEATH GRIPS - 'Takyon (Death Yon)'
QUAD CITY DJS - 'Space Jam'
LAZYTOWN OST - 'We Are Number One'
COLDPLAY - 'Viva La Vida'
BENNY BENASSI ft. GARY GO - 'Cinema (Skrillex Remix)'
A-HA - 'Take On Me'
HE-MAN - 'HEYYEYAAEYAAAEYAEYAA'
XXXTENTACION - 'Look At Me'
OUTKAST - 'Hey Ya'
BIG SHAQ - 'Man's Not Hot (The Ting Goes Skraa)'
μ'S - 'Snow Halation'
INTIAL D OST - 'Running in the 90's'
BAG RAIDERS - 'Shooting Stars'
KNIFE PARTY - 'Internet Friends'
M83 - 'Midnight City'
FOSTER THE PEOPLE - 'Pumped Up Kicks'
CARLY RAE JEPSEN - 'Call Me Maybe'
RICK ASTLEY - 'Never Gonna Give You Up (Rick Roll)'
PASSION PIT - 'Sleepyhead'
OWL CITY - 'Fireflies'
SIMPLE PLAN - 'Untitled (How Could This Happen to Me?)'
STEVEN UNIVERSE OST - 'Stronger Than You'
TOMPPABEATS - 'Monday Loop'
SMASH MOUTH - 'All Star'
[tab]

FAQ

Frequently Asked Questions

What is Wallpaper Engine?

Wallpaper Engine Software allows you to use amazing live wallpapers on your computer desktop. You can choose from our site wallpaper engine best wallpapers that you like and easily make your desktop go live using this amazing software. Read: What is Wallpaper Engine? The Complete Guide.

What Types of Wallpapers Supported?

Several types of wallpaper engine wallpapers are supported and ready to use, Including 3D and 2D animations, websites, videos and even some applications.

About Performance

Wallpaper Engine was delicately built to deliver you an entertaining experience while using the minimum system resources as possible. Multiple options available inside the software to adjust the quality and performance to make Wallpaper Engine fully compatible with your computer capacities.
[post_ads]
[message]

##toggle-on## How To Use This Wallpaper

1- Download The Latest and Updated Version Of Wallpaper Engine Software Free
2- Download this Wallpaper Engine theme.
3- Extract & copy the downloaded file to this destination: [Wallpaper Engine] > Projects > Default projects.
4- Need help? Read this Here.
[post_ads_2]
[accordion]

##download## DOWNLOAD LINK
##steam-square## STEAM LINK