Download As The Stars Fell [4K] Wallpaper Engine Free non-steam required. [message] ##info## DESCRIPTIO...
Download As The Stars Fell [4K] Wallpaper Engine Free non-steam required.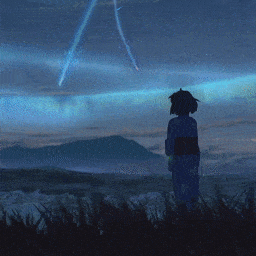 [message]

##info## DESCRIPTION

- TITLE: As The Stars Fell [4K]
- LABELS: Scene,Anime,Wallpaper,Customizable,3840 x 2160,Approved,Everyone,FAVORITED > 500
- STEAM: https://steamcommunity.com/sharedfiles/filedetails/?id=2650822365
- FILE SIZE: 24.3 MB
- DOWNLOADED: 20917
- FAVORITED: 658


---

A Kimi no Na Wa wallpaper! I finally went ahead to animate a scene in my favourite anime movie of all time after watching a kimi no na wa ASMR sleep video. Trying to animate this was really hard and tedious and this is without a doubt, the most complex wallpaper I have ever made so far(5 layers, 335 MB of active texture memory).

At first glance, you would think this particular scene would be a great wallpaper to work on, but trust me it isn't, mainly because if you want to split the artwork into individual layers it is nearly impossible to split them well, at least with my current skills in image editing in GIMP. Hence, I am also not really satisfied with how this wallpaper turned out since it could be much better than it is now.

However, I think it is good enough and I am too lazy to do anything more now. So yeah enjoy!

Music:

[url=https://www.youtube.com/watch?v=TZXXJy1GEOY] Your Name. OST - Sparkle (Piano cover) [/url]

Wallpaper can be found [url=https://www.wallpaperflare.com/woman-standing-on-grass-field-illustration-makoto-shinkai-kimi-no-na-wa-wallpaper-tbvts] here [/url]

Ambience sounds from Zapsplat.com

Inspired by this youtube video [url=https://www.youtube.com/watch?v=UvrROk_SKmE] here [/url]

Update 1: Adjusted bloom and comet pulse

Update 2: Increased speed of aurora movement

Update 3: Changed how the green particles work

Update 4: Changed how the green particles work

Update 5: Increased shake for comet, changed position of shooting stars and also arranged the layers to make it look better.

Update 6: Updated opacity effect for the comet

Update 7, 8 & 9: Improved on green particles
[tab]

FAQ

Frequently Asked Questions

What is Wallpaper Engine?

Wallpaper Engine Software allows you to use amazing live wallpapers on your computer desktop. You can choose from our site wallpaper engine best wallpapers that you like and easily make your desktop go live using this amazing software. Read: What is Wallpaper Engine? The Complete Guide.

What Types of Wallpapers Supported?

Several types of wallpaper engine wallpapers are supported and ready to use, Including 3D and 2D animations, websites, videos and even some applications.

About Performance

Wallpaper Engine was delicately built to deliver you an entertaining experience while using the minimum system resources as possible. Multiple options available inside the software to adjust the quality and performance to make Wallpaper Engine fully compatible with your computer capacities.
[post_ads]
[message]

##toggle-on## How To Use This Wallpaper

1- Download The Latest and Updated Version Of Wallpaper Engine Software Free
2- Download this Wallpaper Engine theme.
3- Extract & copy the downloaded file to this destination: [Wallpaper Engine] > Projects > Default projects.
4- Need help? Read this Here.
[post_ads_2]
[accordion]

##download## DOWNLOAD LINK
##steam-square## STEAM LINK