Download Darkest Dungeon - A Moment of Respite Wallpaper Engine Free non-steam required. [message] ##in...
Download Darkest Dungeon - A Moment of Respite Wallpaper Engine Free non-steam required.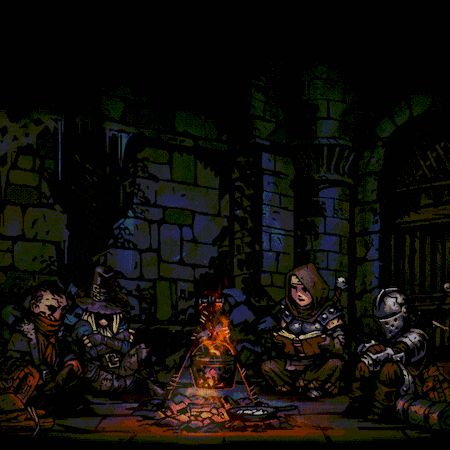 [message]

##info## DESCRIPTION

- TITLE: Darkest Dungeon - A Moment of Respite
- LABELS: Wallpaper,Scene,Game,Other resolution,Everyone,Customizable
- STEAM: https://steamcommunity.com/sharedfiles/filedetails/?id=1839153474
- FILE SIZE: 26.02 MB
- DOWNLOADED: 5634
- FAVORITED: 283


---

"Gathered close in tenuous firelight, and uneasy companionship."

This is a wallpaper I made from Darkest Dungeon camp site assets.

It features a random dungeon room which is selected from the four default dungeons + crimson court, as well as four random heroes selected from the official roster, chosen when the wallpaper is applied. Simply change to a different wallpaper and back to get a new dungeon and new heroes.

Also includes options to set the hero for each party slot manually now. Did someone say QUAD LEPERS?

The camping music from the game is included but muted by default and there is a toggle for the harsh flickering contrast effects if they are not to your liking.

*Note: Party compositions depicted are not guaranteed to be worth a damn*

The assets used in this mod are owned by Red Hook Studios.
[tab]

FAQ

Frequently Asked Questions

What is Wallpaper Engine?

Wallpaper Engine Software allows you to use amazing live wallpapers on your computer desktop. You can choose from our site wallpaper engine best wallpapers that you like and easily make your desktop go live using this amazing software. Read: What is Wallpaper Engine? The Complete Guide.

What Types of Wallpapers Supported?

Several types of wallpaper engine wallpapers are supported and ready to use, Including 3D and 2D animations, websites, videos and even some applications.

About Performance

Wallpaper Engine was delicately built to deliver you an entertaining experience while using the minimum system resources as possible. Multiple options available inside the software to adjust the quality and performance to make Wallpaper Engine fully compatible with your computer capacities.
[post_ads]
[message]

##toggle-on## How To Use This Wallpaper

1- Download The Latest and Updated Version Of Wallpaper Engine Software Free
2- Download this Wallpaper Engine theme.
3- Extract & copy the downloaded file to this destination: [Wallpaper Engine] > Projects > Default projects.
4- Need help? Read this Here.
[post_ads_2]
[accordion]

##download## DOWNLOAD LINK
##steam-square## STEAM LINK