Download Sith Trooper - Star Wars Battlefront II Cover Wallpaper Engine Free non-steam required. [message] ...
Download Sith Trooper - Star Wars Battlefront II Cover Wallpaper Engine Free non-steam required.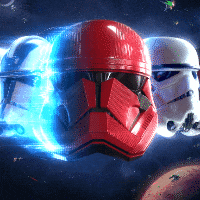 [message]

##info## DESCRIPTION

- TITLE: Sith Trooper - Star Wars Battlefront II Cover
- LABELS: Wallpaper,Scene,Game,Approved,1920 x 1080,Everyone,Customizable
- STEAM: https://steamcommunity.com/sharedfiles/filedetails/?id=1939585359
- FILE SIZE: 2.59 MB
- DOWNLOADED: 30306
- FAVORITED: 795


---

"Sith troopers were a stormtrooper variant that served the First Order during its war against the Resistance in their ultimate push towards galactic conquest. Named after the Sith, an ancient order of Force-users devoted to the dark side of the Force, these troopers drew power and inspiration from such order's dark legacy and were the next evolution of Imperial/First Order stormtroopers. They wore red-colored stormtrooper armor and wielded a type of black and red blaster rifle."

- Resolution: 1920*1080.
- Original Artwork: https://xbox-store-checker.com/assets/upload/game/2019/12/optimize/9n4hxl0qz5tz-background.jpg.
- You can toggle between normal or alternate laser bolts in the properties. Use the value "1" if you want the laser bolts to go travel through the whole screen, or "0" if you just want them to stay very close to the ships, making the wallpaper more calm and static.
- I recommend using the "cover" alignment for this wallpaper.
- This isn't a loop, everything is rendered in real-time within the Wallpaper Engine application, you're just watching a .gif preview.
- My website: https://windowscustomization.com/
[tab]

FAQ

Frequently Asked Questions

What is Wallpaper Engine?

Wallpaper Engine Software allows you to use amazing live wallpapers on your computer desktop. You can choose from our site wallpaper engine best wallpapers that you like and easily make your desktop go live using this amazing software. Read: What is Wallpaper Engine? The Complete Guide.

What Types of Wallpapers Supported?

Several types of wallpaper engine wallpapers are supported and ready to use, Including 3D and 2D animations, websites, videos and even some applications.

About Performance

Wallpaper Engine was delicately built to deliver you an entertaining experience while using the minimum system resources as possible. Multiple options available inside the software to adjust the quality and performance to make Wallpaper Engine fully compatible with your computer capacities.
[post_ads]
[message]

##toggle-on## How To Use This Wallpaper

1- Download The Latest and Updated Version Of Wallpaper Engine Software Free
2- Download this Wallpaper Engine theme.
3- Extract & copy the downloaded file to this destination: [Wallpaper Engine] > Projects > Default projects.
4- Need help? Read this Here.
[post_ads_2]
[accordion]

##download## DOWNLOAD LINK
##steam-square## STEAM LINK