Download Rainbow Rings Wallpaper Engine Free non-steam required. [message] ##info## DESCRIPTION ...
Download Rainbow Rings Wallpaper Engine Free non-steam required.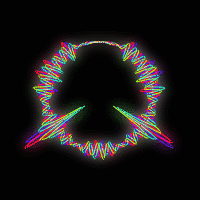 [message]

##info## DESCRIPTION

- TITLE: Rainbow Rings
- LABELS: Abstract,Wallpaper,Web,Audio responsive,Approved,Everyone,Customizable,Dynamic resolution
- STEAM: https://steamcommunity.com/sharedfiles/filedetails/?id=861933876
- FILE SIZE: 1.2 MB
- DOWNLOADED: 555771
- FAVORITED: 8813


---

Colorful rings reacting to audio.

[h1]Options[/h1]
[list]
[*]2 rings, one with all frequencies, 1 with just low frequencies. Either can be turned off by reducing radius to 0.
[*]Clock options
[*]Background Image & Slideshow
[*]Glowing
[/list]


[h1]Tips[/h1]
[list]
[*]Adjust CPU core count for a more accurate cpu usage estimate. ( though it does remain just an estimate )
[*]Turn on glowing for a more vibrant wallpaper. Off by default to lower default cpu usage.
[/list]

Yin Yang image used in one example: http://imgur.com/mr9Er

Settings for the example with the center "flower":
- I just decreased "radius 2" to close to 2,
- and raised height and height 2 to nearly max.

[h1]Wishlist[/h1]
[list]
[*] display date
[*] move screen/background on bass like this example https://www.youtube.com/watch?v=6oHz4MHXLSU
[/list]

[h1]Updates[/h1]
[list]
[*]Added 3 different additional effects. As I ended up just constantly tweaking I decided to put them up for public scrutiny and get some feedback :) Still have some settings planned but also need to see if I can improve the "bass" responsive ones.
[*]Line Shifting effect. Based on bass volume it will split the lines apart.
[*]Scale effect. Based on bass volume it will enlarge the circle
[*]Particle effects. Just spawns some colorful particles based on where there is a peak.
[*][i]Will try to focus on color customization next while I get some feedback on this[/i]
[/list]
[list]
[*]Added basic custom color option starting with 2 colors. Will be adding more color options later
[*]I added in a debug graph that I was using for some tweaking in case someone is curious why the bass behaves like it does. This way I don't have to comment in the code anymore either..
[*]Tweak bass response a bit more. Seems to work better with some rougher or faster things now.
[/list]
[list]
[*]Particles can now go only outward, only inward or both.
[*]Can lower the randomness of particles aligning them.
[*]Can reposition time and ring 2 ( bass ). Main positioning will be used for inner/first/all frequency ring.
[/list]
[list]
[*]Added way to hide rings. As a result the "Animate when Silent" options is renamed to "When Silent". Your old settings should be preserved.
[*]Added analog clock version with hour markers.
[*]Added Reverse frequency range option
[/list]
[list]
[*]Unlocked framerate when visuals could benefit from them. Those are bass effects, particles and slideshow transitions.
[*]Fixed 2 bugs in the slideshow code
[*]Added options to enable/disable individual slideshow transitions.
[/list]
[list]
[*]Fixed bug of wallpaper not starting if background image was missing.
[/list]
[list]
[*]Fixed bug where black lines/rings would be drawn if you selected "hide rings " for the "when silent" setting as well as not an analog clock.
[/list]
[list]
[*]Updated background settings to include video
[*]Line shifting & scale can now be enabled/disabled when there is no audio. Default is set to off.
[*]Particle spawn options added to spawn on peaks or bass detection
[*]Increased maximum particles settings to facilitate the large amount of particles that can be spawned when particles are spawned on bass.
[*]Show FPS option included to help tweak performance when using particles.
[/list]
[tab]

FAQ

Frequently Asked Questions

What is Wallpaper Engine?

Wallpaper Engine Software allows you to use amazing live wallpapers on your computer desktop. You can choose from our site wallpaper engine best wallpapers that you like and easily make your desktop go live using this amazing software. Read: What is Wallpaper Engine? The Complete Guide.

What Types of Wallpapers Supported?

Several types of wallpaper engine wallpapers are supported and ready to use, Including 3D and 2D animations, websites, videos and even some applications.

About Performance

Wallpaper Engine was delicately built to deliver you an entertaining experience while using the minimum system resources as possible. Multiple options available inside the software to adjust the quality and performance to make Wallpaper Engine fully compatible with your computer capacities.
[post_ads]
[message]

##toggle-on## How To Use This Wallpaper

1- Download The Latest and Updated Version Of Wallpaper Engine Software Free
2- Download this Wallpaper Engine theme.
3- Extract & copy the downloaded file to this destination: [Wallpaper Engine] > Projects > Default projects.
4- Need help? Read this Here.
[post_ads_2]
[accordion]

##steam-square## STEAM LINK
##download## DOWNLOAD LINK