Download Cyber Vendor Room Wallpaper Engine Free non-steam required. [message] ##info## DESCRIPTION ...
Download Cyber Vendor Room Wallpaper Engine Free non-steam required.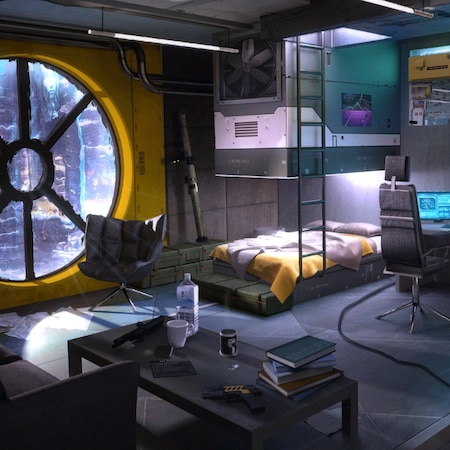 [message]

##info## DESCRIPTION

- TITLE: Cyber Vendor Room
- LABELS: Wallpaper,Scene,Cyberpunk,1920 x 1080,Everyone
- STEAM: https://steamcommunity.com/sharedfiles/filedetails/?id=1498288260
- FILE SIZE: 1.67 MB
- DOWNLOADED: 112514
- FAVORITED: 3304


---

A subtly animated scene based on a nice room concept by Adrian Marc, Romanian concept designer.

"This is the room of a cyberpunk girl... About 25-35 years old.
She is a vendor, weapon trader and engineer - she sells weapon mods and weapon augmentations, she can modify and customize weapons. She is not legal so you don't find her in a shop or market."

I made this because of Cyberpunk 2077 hype and I always found this room concept cosy. I'm using the max res I could find but it may be blurred at 4K.

Personally I use this in cloned multi-monitor with it usually only visible on one at a time.

Does not require additional files or contain audio.

Features:
- Subtle bloom, (including sparkle post-processing)
- Fog effects
- Steam coming from coffee
- Dust motes and light rays from window
- Slight ambient lighting
- Subtle light flickers
- Rain trickling down window (I found this cosy but it's subject to change!)

There aren't enough cyberpunk wallpaper projects so I thought I'd give you mine.

Any suggestions for changes, just leave them below. I *will* update this with my own changes, like making the window nicer over time.

Source: https://www.artstation.com/artwork/13Qr8
Artist ArtStation: https://www.artstation.com/amarc

I love Adrian's concepts, and cyberpunk, so if a developer happens to come across this please consider hiring him :D

Approx RAM usage: ~15MB when playing desktop, at 25FPS
[tab]

FAQ

Frequently Asked Questions

What is Wallpaper Engine?

Wallpaper Engine Software allows you to use amazing live wallpapers on your computer desktop. You can choose from our site wallpaper engine best wallpapers that you like and easily make your desktop go live using this amazing software. Read: What is Wallpaper Engine? The Complete Guide.

What Types of Wallpapers Supported?

Several types of wallpaper engine wallpapers are supported and ready to use, Including 3D and 2D animations, websites, videos and even some applications.

About Performance

Wallpaper Engine was delicately built to deliver you an entertaining experience while using the minimum system resources as possible. Multiple options available inside the software to adjust the quality and performance to make Wallpaper Engine fully compatible with your computer capacities.
[post_ads]
[message]

##toggle-on## How To Use This Wallpaper

1- Download The Latest and Updated Version Of Wallpaper Engine Software Free
2- Download this Wallpaper Engine theme.
3- Extract & copy the downloaded file to this destination: [Wallpaper Engine] > Projects > Default projects.
4- Need help? Read this Here.
[post_ads_2]
[accordion]

##steam-square## STEAM LINK
##download## DOWNLOAD LINK