Download Woven Friendship - Spirited Away 千と千尋の神隠し Wallpaper Engine Free non-steam required. [message] ...
Download Woven Friendship - Spirited Away 千と千尋の神隠し Wallpaper Engine Free non-steam required.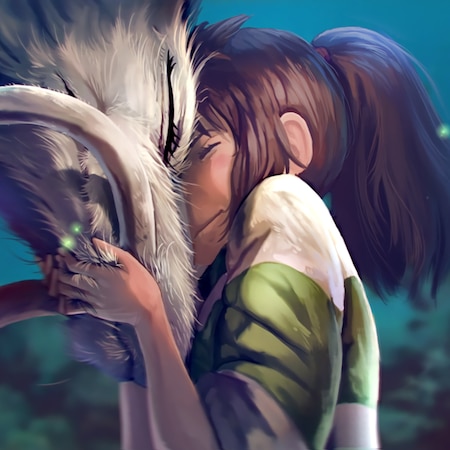 [message]

##info## DESCRIPTION

- TITLE: Woven Friendship - Spirited Away 千と千尋の神隠し
- LABELS: Wallpaper,Scene,Anime,Approved,1366 x 768,Everyone
- STEAM: https://steamcommunity.com/sharedfiles/filedetails/?id=1744063039
- FILE SIZE: 153.67 MB
- DOWNLOADED: 55314
- FAVORITED: 2008


---

Chihiro Ogino (荻野 千尋) and Haku (ハク / 饒速水琥珀主) From The Anime Spirited Away (千と千尋の神隠し)

Tags: Girl Woman Women Magic Fury Brunette Sweater Spirit World Japanese Love Friendship Hugs Tears Crying Trees Night Sky Chill Relaxed Noise Sound Music Smile Happy Fantasy God of the Swift Amber River Powerful Green Blue White Gray Black Glow Dark Bright Shiny Dragon Scales

Original Photo: https://wall.alphacoders.com/big.php?i=748309

Song Link: https://www.youtube.com/watch?v=ImPM5IDIYPs&list=PLJrkymb-Pon9EEoyUtHwoQfk8DHp8_h-O
Audio Link: Wind Sounds 1 Hour / Wind Blowing Through Autumn Forest

I do not own this art I just added effects to it.

PLEASE RATE IF YOU LIKE!! :D

SomethingEPIC
[tab]

FAQ

Frequently Asked Questions

What is Wallpaper Engine?

Wallpaper Engine Software allows you to use amazing live wallpapers on your computer desktop. You can choose from our site wallpaper engine best wallpapers that you like and easily make your desktop go live using this amazing software. Read: What is Wallpaper Engine? The Complete Guide.

What Types of Wallpapers Supported?

Several types of wallpaper engine wallpapers are supported and ready to use, Including 3D and 2D animations, websites, videos and even some applications.

About Performance

Wallpaper Engine was delicately built to deliver you an entertaining experience while using the minimum system resources as possible. Multiple options available inside the software to adjust the quality and performance to make Wallpaper Engine fully compatible with your computer capacities.
[post_ads]
[message]

##toggle-on## How To Use This Wallpaper

1- Download The Latest and Updated Version Of Wallpaper Engine Software Free
2- Download this Wallpaper Engine theme.
3- Extract & copy the downloaded file to this destination: [Wallpaper Engine] > Projects > Default projects.
4- Need help? Read this Here.
[post_ads_2]
[accordion]

##steam-square## STEAM LINK
##download## DOWNLOAD LINK